This course is a revolution of being. Break through the barriers of your limiting self-beliefs to the future you desire. Open your mind to unseen possibilities.
Reconnect is an advanced course to recover parts of the self you discarded or sent away to protect yourself. This course removes barriers and profoundly shifts how you partner with yourself in your becoming.
Reconnect requires a passion for and commitment to the life that you are meant to live. Reconnection and wholeness is possible. Together, we unearth it.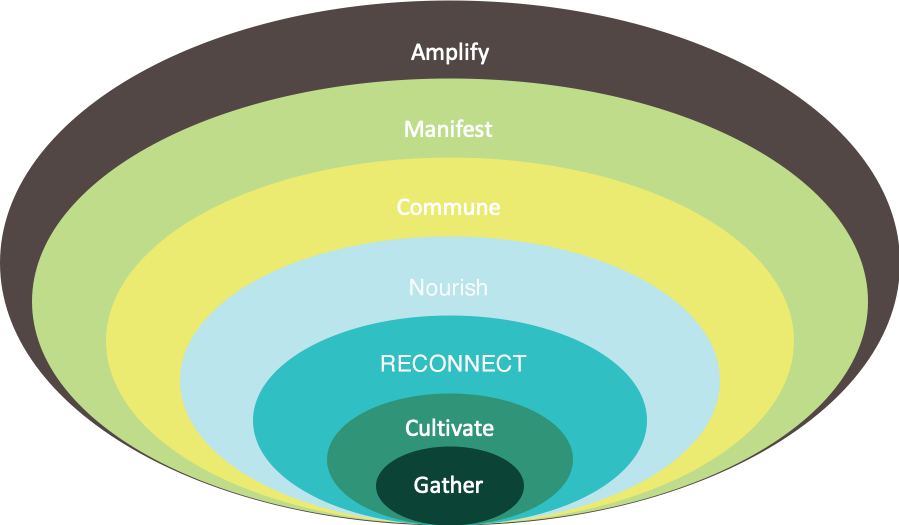 Reconnect is an eight-course series. Homework is given before the first course and between the other seven. Homework takes about 20 to 40 minutes to complete. There are two weeks in between each session. Homework is due before each Thursday session.
We meet in community on Thursday at 11 am PST on Zoom for an hour-long call. We discuss homework, address challenges, and support each other's growth.
Calls are recorded and sent out as reference. There are opportunities for groups to gather outside of our calls. Many people find that supportive. It is not required.
Reconnect sessions are as follows:
Session 1: Notice and Name the Gap
Session 2: What Fills you Up/What Brings you Down
Session 3: Name your Hoped for Future
Session 4: Recover your Deepest Longing
Session 5: Befriend your Inner Critic
Session 6: End the War of Childhood
Session 7: Own Back Your Power
Session 8: Reconnect to Your Aliveness
Reconnect course portal simplifies the learning experience, saves your progress, and creates community.
Reconnect Cost:
Basic: For course materials and bi-weekly calls is $485.
Basic plus Three: Include three one hour-long private coaching sessions to be used at your discretion during course is $935.
Basic plus Eight: At $1,685 this is the best deal. It includes eight one-hour-long private coaching sessions to be used during the course.
Payments can also be broken up over the span of the course. Pay here.
Next course materials go out January 18th, 2023, and group calls begin Thursday, February 2rd, 2023
Email Tracy with questions.